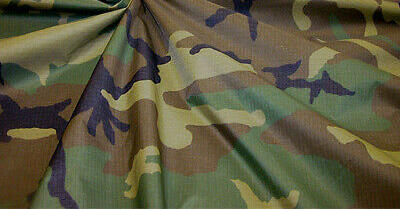 Woodland Camouflage Fabric 40 Denier Nylon Ripstop High Tensile Strength 60 inch wide $1..25 a yard
Woodland Camouflage 40 Denier Nylon Ripstop High Tensile Strength
This fabric is not water repellent or coatedUncoated
60 inch wide $1.25 a yard 
Made in USA, Berry Amendment Compliant. 

Factory Seconds
We currently have  649 yards.   You can purchase on or more rolls,  For the shipping cost on multiple rolls, please email us at info@magnafabrics.com
24 yards
25 yards
32 yards
34  yards (2 rolls)
35 yards
56 yards 
67 yards
192 yards
Contact us for free samples and additoinal information..