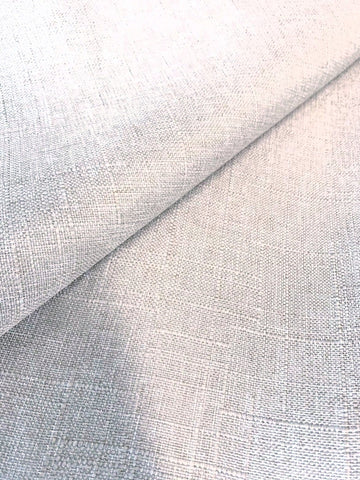 Pearl White Cotton & Polyester Linen Weave Fabric Decorative, Curtain, Drapery and Pillow 48 inch, 75 cents a yard
Pearl white Cotton and Polyester Seating, Decorative, Curtain, Drapery and Pillow Linen Weave Fabric 48 inch, 75 cents a yard
Winter white or off-white is not a pure white and is also called bone color.  If you have any questions on this or need further assistance on any matter please fee free to contact us.
This is a light weight, lustrous fabric that is appropriate for a wide variety of uses
including drapes,  pillows, table covers and other decorative
1 30 yard roll 
2 100 yard cartons
59% Cotton 41% Polyester
Dry clean Only

Colors and yards available on this style
Adobe 173.5 yards
Birchgreen 307 yards
Brown 101 yards
Cameo 75 yards
Chantilly 532 yards
Chrome 88 yards
Cobalt 379 yards
Copen Blue 51 yards
Cypress 493 yards
Damson 668 yards
Delft Blue 480 yards
Desert 494 yards
Dusty 155 yards
Fawn 291 yards
Greenmist 400 yards
Jasper 115 yards
Leaf Green 400  yards
Lilac 539 yards
Marine 321 yards
Mauve 516 yards
Meadow 705 yards
Midnight 295 yards
Moss Green 571 yards
Norwegian 674 yards
Off White 380 yards
Pacific 81 yards
Pearl 230 yards
Plum 579 yards
Raspberry 200 yards
Seafoam 409 yards
Seashell 48 yards
Spray 272 yards
Spruce 346 yards
Suede 79 yards
Teal 150 yards 
Tea Rose 300 yards
Verde 337 yards
White 367 yards
Willow 295 yards
Wine 450 yards
Sample available by request

Please email us at Info@MagnaFabrics.com with your questions.  If you would like a shipping cost on one or more cartons please provide your zip code with the cartons that you have interest in.